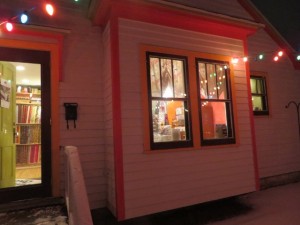 Bungalow Quilting & Yarn is a modern/contemporary quilt shop with a large stock of quality yarn and fabric. Founded in Ripon, Wisconsin in 2011 to help provide insight into new trends, accessibility to premium quilting and knitting goods, along with excellent service.  Our goal is to provide the best quality fabric and yarn to our customers while keeping prices competitive.  We have regular classes from experts in the field to keep you up to date with the latest trends in quilting, garment sewing, and knitting. It is our belief that quilting and yarn shops are better in houses, not in large commercial stores.  This is because these are home arts, arts that make you feel comfortable and secure, and we want to provide that feeling with our shops.
There are two Bungalows located in the heart of Wisconsin. The first shop is in Ripon, Wisconsin and the second is in Milwaukee, Wisconsin, for our customers from the southeastern part of the state.
Here are our contact numbers in case we are not open during business hours. Life is unpredictable, and sometimes there a discrepancies in the schedule and someone doesn't show up. Or, there are family emergencies. It doesn't happen often, but sometimes it does. 920-517-1910.
Choose the Bungalow because we offer a warm and inviting atmosphere for quilters and knitters of every skill level. It is our duty to help you pick the best quality materials that are right for the project you have in mind. Come on down to one of our two locations and enjoy the Bungalow for yourself!
We offer our customers premium fabrics from Moda, Michael Miller, Robert Kaufman, Clothworks, P & B Textiles, Timeless treasures, Stof, Art Gallery and more.  Not only our fabrics, but our yarn is also of the highest quality from Cascade, Skacel, Berroco, Brown Sheep, Universal, Rozetti and many more. It is our job to offer you the best quality quilting and knitting materials. Along with premium materials it is our duty to offer up the best information on new trends.